Products to Rely On

Hitec's diesel UPS systems provide clean, reliable, and uninterruptible continuous power to mission-critical operations. Our systems provide value-added features by serving as a power conditioner, while preventing dips, breaks, spikes, sags, or surges. When utility power is lost, the UPS immediately transfers to diesel operation where our induction coupling (a kinetic energy storage medium and buffer) supplements utility power without interruption. Meanwhile, the diesel engine starts and picks up the load indefinitely.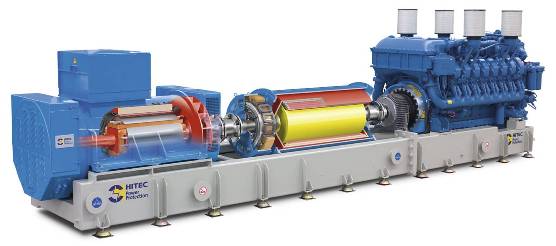 Simply Compact
Our strength lies in our simplicity. The robust and simple construction of Hitec's UPS systems make it one of the highest quality and most reliable backup power supply systems available on the market today. Plus, they are inexpensive to operate and maintain, and they offer a long life of service.
Our systems are compact. They occupy less space than battery-backup power systems. That means lower overall operation costs compared to battery-based, uninterruptible power-supply systems.
 
Built Around Your Company
Hitec builds single-module UPS systems from 500 kVA to 2,500 kVA that can be designed in a variety of parallel and/or redundant configurations serving the data center, telecom, process control, semiconductor, pharmaceutical, and other industries where clean, reliable continuous uninterrupted power is a necessity.
System Installation and Commissioning
Hitec can install and commission your UPS system simply and easily—almost as easily as installing a standby generator, but without battery UPS, harmonic filter, batteries, and a myriad of inter-connecting electric wiring and synchronizing equipment.
• The Power Module comes pre-mounted on a robust base frame. Optional split frames are available to aid lifting and installing at more difficult sites.
• Room ventilation, mounting engine exhaust, fuel, and cooling systems for Hitec UPS systems are identical with or similar to the installation works required for a standby generator.
• The associated switchgear is standard equipment, so there are no special installation and commissioning procedures.
• The Human Machine Interface provides easy and clear access to all system parameters. It is a powerful information tool for simple and fast commissioning of the UPS system.
Monitoring Management is now the rep in North Carolina and South Carolina for HITEC DRUPS Diesel Rotary UPS.  Monitoring Management (MonMan) is the HITEC DRUPS rep for all cities in North Carolina and South Carolina including: Charlotte, Raleigh, Greensboro, Winston-Salem, Columbia, Greenville, Spartanburg, Charleston.
MonMan has worked on numerous large data center projects, literally spanning the globe, that use DRUPS technology.
Contact us for design and pricing information!