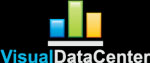 Aggregate. Consolidate. Simplify.
In the typical data center today there is a gap between the facilities operation and the data systems they host. Facilities and IT data operations were developed along very different paths initially, resulting in very different management systems. As data centers continue to grow in size and complexity, the operators and system administrators find themselves faced with a bewildering array of management platforms, many of which do not interoperate and none of which are capable of showing the complete picture. This is the facilities/IT operations gap; a gray space where inventories disappear, energy management strategies fall apart and capacity planning turns into guesswork.
Visual Data Center takes the uncertainty out of data center management by using our unique smart object technology. Visual Data Center integrates disparate systems across your operation into a single portal, providing a flexible and powerful visual management interface. Visual Data Center allows you to monitor and manage any SNMP, IPMI or Modbus TCP device in your network. Facility devices include CRAC Units, UPS, PDU, Generator, ATS, Metered and Managed Power Strips, and IT devices include Servers, Switches, Routers and more. In addition, the Visual Data Center plugin architecture allows for the integration of third party devices and systems such as IP Cameras and Card Access control systems.
You Can't Control What You Can't Measure
This flexible architecture provides an unprecedented level of control for our end users and makes the consolidation of data center information and metrics easy. Users will have their capacity and utilization information available and will be able to track the all-important data center efficiency ratios such as PUE and DCiE for their facilities being managed with the application. Request a demo of Visual Data Center today and see how you can start to perform real-time monitoring, view trend charts, consolidate documentation, track warranty and scheduled maintenance events, manage rack elevations and more.                 
SNMP, IPMI and Modbus TCP integration.

Easy access to PUE and DCiE facility metrics.

Real time capacity and utilization information.

Visual rack building module with 8,000+ model library.

Incredibly flexible, scalable and granular design.
IT Efficiency Starts With Monitoring
Knowing what equipment you have and how it's operating is a great first step to improving your IT efficiency. The Visual Data Center system allows you to monitor every aspect of your mission critical facility. You can then make informed decisions on hardware, software and facilities equipment.
Monitoring Management is a distributor and integrator for Visual Data Center in North Carolina and South Carolina, including Charlotte, Raleigh, Greensboro, Winston-Salem, Columbia, Greenville, Spartanburg and Charleston.