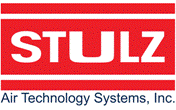 Stulz equipment is made in the United States of America.
Stulz employees roughly 400 American workers in its Frederick, Maryland facility. This includes manufacturing, engineer, service and sales support. You can be sure that your Stulz equipment is made in America! These days, many companies cut costs any way possible. One way to cut costs is to move production ocross the border with lower labor costs. A second way of cutting costs is to cheapen up your product. Finally, a company can cut costs by reducing R&D. Stulz doesn't do ANY of that!
Because Stulz is a privately-held, family-owned company, it does't have to answer to the board of directors of some parent holding company that isn't in the Precision HVAC industry. Stulz knows that the best way to grow business is by keeping production here in America, by providing the highest quality products (with industry-leading warranties) and by having a passionate dedication to R&D (Stulz introduced the EC Fan a decade ago, and continues to lead the way with energy-efficient design).