Motivair Chilled Door™ High Density Rack Cooling System

The Motivair Chilled Door™ is an active cooling system that can be fitted to the rear of any new or existing server rack via a patented sliding runner system.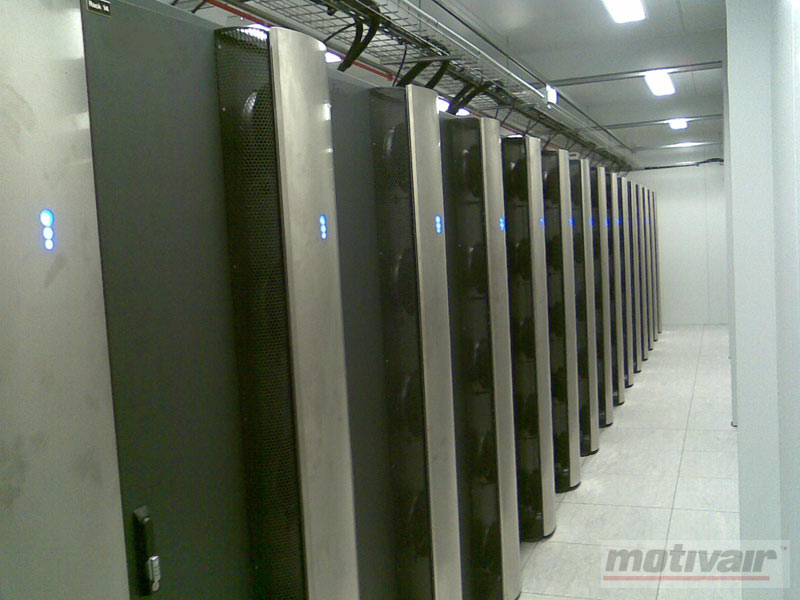 Available Cooling Capacities:
Features:
Chilled Door occupies no additional floor space
Allows clear visibility down the server aisle for added safety and security when fully open
Requires less floor space than in-row coolers or cold aisle containment systems
Allows for easier modifications
Compares favorably against passive rear door systems that rely on the server fans to provide airflow
 
Components:
High-efficiency chilled water coil
Low-noise EC fans
Micro compressor controls
Quick-connect flexible hoses supply chilled water at 57-70°F to guarantee sensible cooling with zero condensation
 
Chilled Door can effectively replace CRAC units, eliminate the need for a raised floor, and save up to 90% more energy than traditional cooling systems. Any chiller may be used with the Chilled Door system but the higher water temperature permits maximum year-round energy savings with Motivair Free Cooling Chillers.
Currently the alternative methods of high density rack cooling do not fully address the effective cooling of individual servers or the energy consumption associated with this cooling. In-row rack coolers are most suitable for use in conjunction with hot aisle/cold aisle containment systems for cooling rows of racks but are not as effective for individual servers that may have quite different heat loads at any given time.
In-row rack coolers with containment systems require increased use of valuable data center floor space, increased energy consumption, and a rigid architecture system that is not conducive to rapid changes. Passive rear door coolers are mounted to individual racks but rely on the server fans, which in many cases, are inadequate for high density rack cooling.
The Motivair Chilled Door system is designed to overcome these issues by providing effective cooling of individual racks, regardless of the server heat load at any given time. This is accomplished by the use of a PLC controller and multiple EC fans that sense the temperature of each rack and respond with the appropriate fan speed and chilled water flow through the integral cooling coil. This is a dynamic process that automatically tracks the air temperature leaving each rack and adjusts the Chilled Door performance accordingly. This results in the most effective high density rack cooling system currently available, utilizing any existing or new chilled water supply. The ultimate energy-saving solution is to utilize a Motivair Free Cooling chiller to supply the Motivair Chilled Door high density rack cooling system. This unique combination provides a vastly superior cooling system in terms of effective cooling at the absolute lowest energy cost while minimizing floor space. This system is highly conducive to rapid changes in the data center while effectively eliminating hot/cold aisles and the traditional CRAC room cooling systems of the past. The Motivair Chilled Door high density rack cooling system utilizes elevated chilled water temperatures to deliver 100% sensible cooling so humidity in the room is never reduced. Another major benefit is the effective geographical range for Free Cooling chillers is substantially increased with elevated chilled water temperature. The Motivair Chilled Door advanced system of rack cooling will rapidly become the industry benchmark for all other high density rack cooling systems.
Monitoring Management is the rep in North Carolina and South Carolina for Motivair products, including Motivair Chilled Door, Motivair Free Cooling Chillers, Motivair Heat Recovery Chillers, Motivair Pump Stations and Motivair Compressed Air Treatment.  Monitoring Management (MonMan) is the Motivair rep for all cities in North Carolina and South Carolina including: Charlotte, Raleigh, Durham, Greensboro, Winston-Salem, Asheville, Fayetteville, Columbia, Greenville, Spartanburg, Charleston.